13+ Best Video Editing Software of 2022 + Free Tools for Mac & Windows
Choosing the right video editing software is vitally important if you want to create a professional-looking video. From easy editing to special effects, transitions, and color correction, the best video editing software can help you meet your goals. In this guide, I ranked and reviewed the 13+ best video editing software, along with my top 5 choices, so that you can pick the best one for you.
---
We're reader-supported. When you buy through links on our site, we may earn an affiliate commission.
Want to get right to the best video editing software right now? My favorite choices are Adobe Premiere Pro CC and Corel VideoStudio Pro.
Choosing the best video editing software is the key to either looking like a Hollywood director or a total amateur.
The need for video content is accelerating. People are making money on YouTube, live streaming content on Twitch, and even creating their own OTT video subscription companies like Netflix.
It's essential to tap into the enormous power of video content if you're not already doing so. And if you're a good video editor, you can transform almost any piece of raw footage into a masterpiece.
Back in 1999, when I was 12 years old, I started video editing, and it's been a passion of mine ever since. I still vividly remember the first time I was editing a clip and added that sweet gunshot sound effect coming from my orange water gun.
The invisible bullet struck my friend, and he flipped backward, violently thrashing into the pool below.
I was hooked.
I continued to create (at first embarrassing) videos, got more skilled at editing, then went to college at Michigan State University for video and audio production. Over the years, I've used a ton of video editing programs.
In this guide, I include the best video editing software to use this year when it comes to:
The best for PC.
The best for Mac.
The best free video editors.
The easiest video editors to use.
The best for high-quality film production.
The best for small businesses.
The best green screen software options.
And more.
Let's get started.
What is the Best Video Editing Software?
When choosing the best video editing software, you need to consider many things. For example, consider the computer you're using, file transfers (inputs), editing features like filters, transitions, video, and audio settings, and video file rendering (outputs).
Here are my picks for the best video editing software:
Best Video Editing Software for Windows
Adam's Take
My #1 recommendation for a great video editing software goes to Adobe Premiere Pro. If you want to create incredible videos fast, this is the software for you. It's hard to beat this software with so many use cases and features.
Adobe Premiere Pro CC is a leading video editing app as part of Adobe Creative Cloud. It has well-integrated workflows so you can edit your video without exiting your timelines. This software is time-efficient thanks to the Adobe Sensei technology, which gives you an array of automated tools.
With Premiere Pro CC, you can work with the latest video formats. You can edit video footage in ultra, high-end 8k as well as in virtual reality. Content delivered on Premiere Pro CC is appropriately optimized for any screen.
Key Features:
This software is compatible with other top Adobe CC products like Adobe Stock, Audition, and After Effects. Therefore, you can easily download a motion graphics template from Adobe Stock or After Effects seamlessly without needing to leave Premiere Pro's interface.
One notable feature is its end-to-end VR 180 capabilities.
Here, you can make the most immersive videos and:
Deploy VR 180 support which optimizes your effects and format.
Publish your content on YouTube, Vimeo, (or other platforms) using their Google VR180 format.
Color grading and color correction are also robust features. With Lumetri Color tools, your curve adjustments become more accurate and precise, and chroma key options remove backgrounds for green screen videos.
Premiere Pro excels when it comes to audio editing too. With innovative sliders in the Essential Sound Panel, you can easily add effects like reverb, flangers, compression, amplification, and stereo balance. Plus, with native functionality with Adobe Audition, you can take your audio to professional levels.
Ultimately, Premiere Pro gives you the complete package you would need to create a professional video. As a beginner, you'll enjoy their streamlined interface, especially its drag and drop tools, and dedicated companion mobile app.
User Experience:
With a drag and drop interface, Adobe Premiere Pro CC makes it easy to import video footage and audio files into your project.
You can then use the editing tools to make changes to the video or audio track.
The interface is intuitive and user-friendly, making it easy to get started with video editing.
Pricing:
Adobe Premiere Pro CC costs $20.99 per month.
What I Like/Dislike About Adobe Premiere Pro CC:
Like:
The consistency of shortcuts and layout throughout Adobe Creative Cloud applications is one of the things I like most about Adobe Premiere Pro CC.
With a few keystrokes, you can easily duplicate, copy and paste content in your project, which saves a lot of time when editing video.
Dislike:
Functions are a bit less intuitive than other Adobe Creative Cloud applications.
Product Updates:
With the new Camera to Cloud feature, you can now easily send your video footage from your camera to Adobe Creative Cloud. This means that you can quickly and easily access your footage from anywhere, making it easier to edit and share your videos with others.
The new Review workspace in Adobe Premiere Pro CC makes it easy to share your videos with others and get feedback. With the integration of Frame.io, you can now send your videos directly to Frame.io for review and collaboration.
Get started with Adobe Premiere Pro today.
Best Standalone Video Editing Software ($63.99)
Adam's Take
If you're looking to get into vector illustrations, then CorelDRAW VideoStudio Pro is the best absolute software for you. It offers various features and allows you to create illustrations, logos, and even complex animations. Available for both Windows and Mac, I advise you to try it.
Corel VideoStudio Pro is a video editing software that helps you with storyboard and timeline video editing.
The software helps you turn images into movies and provides creative effects, project templates, title presets, transitions, 1500+ filters, etc.
Its slideshow maker also helps you create movies and slideshows with plenty of template options – you just need to add your media. You can also combine photos, videos, and audio on multiple tracks.
Key Features:
The MultiCam Capture Lite feature lets you record your screen and webcam simultaneously and create videos. Sub-products like Corel Painter and PaintShop Pro can also help you create custom animated overlays, static graphics, and live paintings.
The video editing software also provides all essential editing tools to crop, trim, and split video – directly on the timeline. You can also change the aspect ratio and rotate or change the video just the way you like.
Further, you can remove fisheye distortion with the lens correction feature and adjust the temperature using color-correct clips. The color correction function also helps you bring out the colors in your videos with auto-tune adjustments, saturation, and more.
Additionally, you can also add subtitles to your videos, record voiceover, fade and layer audio with audio ducking, and more.
The software is also optimized for Intel and Nvidia processors and graphic cards. This helps speed up the rendering process in all the most popular file formats.
Some of its other prominent features include:
Optimized for 4k display
Drag and drop video editing
Multi-camera editing
360-degree video editing supported
Stop motion animation
Pan and Zoom
Color and Lens correction
Chroma key/Green screen
Split-screen video
Record voiceovers and add subtitles
Batch processing
Create Custom motion paths graphics, overlays, shapes, and more
Get new textures, gradients, templates from NewBlueFX, Boris X, and more.
Convert 360-degree videos into Tiny Planet or Rabbit Hole effects (Spherical Panoramas).
User Experience:
With a big preview window that dominates the interface and an integrated media library, Corel VideoStudio Pro is designed for users who want to get started with video editing quickly and easily.
The interface is intuitive and easy to navigate, with all the features and tools clearly laid out and labeled.
Pricing: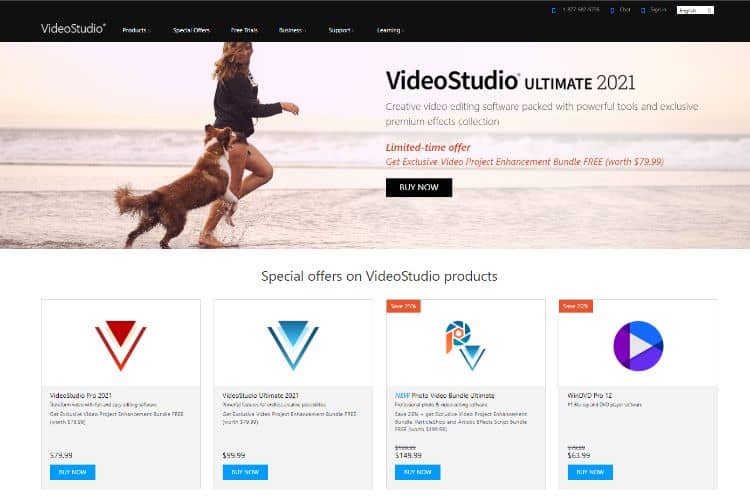 The VideoStudio Pro costs $79.99. You also get a 30-day money-back guarantee.
What I Like/Dislike About Corel VideoStudio Pro:
Like:
Optimized 4K screen option so you can easily see what you're editing, as well as the integrated media library which makes it easy to find your footage and photos.
Easier accessing menus and the drop-down feature makes it easy to find the tools you need.
Dislike:
Hangs up a lot when any other small processes are running in the background.
Some tools were slow to load and process, which can also be frustrating when you're trying to get something done quickly.
Product Updates:
New 360-degree video format and conversion support mean that you can now edit and export your 360-degree videos in a format that is compatible with most major VR headsets.
The new native support for videos captured in portrait mode means that you can now edit and export your videos without having to rotate them first.
Get 20% off VideoStudio Pro.
Best Video Editing Software for Beginners
Adam's Take
Looking to tell a story through your videos? Adobe Premiere Elements might be the video editing software for you! This powerful program is easy to use and perfect for creating beautiful videos. If you want to take your vision to the next level, I recommend Premiere Elements as it also offers advanced tools for more experienced editors.
Based on versatility, Adobe Premiere Elements is one of the best video editing tools for beginners.
Premiere Elements has a ton of great features like hundreds of transition effects, enhanced face detection, haze removal, focus adjustment, and more. There is also live search functionality, a guided editing interface, video collages, and touch-based editing.
Adobe Premiere Elements is not compatible with 360-degree video and other innovative capabilities like multi-cam editing. All these are forgivable when you consider its vast range of capabilities.
Key Features:
There are three modes to create your video: Quick, Guided, and Expert.
With quick mode, you can select your preferred media for your video, and the program arranges it for you on the timeline. It automates aspects of your video like automatic motion tracking, video stabilization (excellent for GoPro), and smart toning.
Guided mode is more assisted as the name suggests. The software educates you on its features and functionalities, and you learn every component of the interface and how it works as you go.
Finally, Expert mode is more for more experienced users, and you control everything yourself. While Adobe Premiere Elements isn't as advanced as other tools on this list (and isn't the fastest either), it's a great entry-level app.
User Experience:
With the ability to fine-tune your images and videos, Adobe Premiere Elements provides a high-quality user experience.
Add filters, text, and other effects to make your images and videos stand out.
Pricing:
It only costs $99.99 for the Premiere Elements 2022 or you can get this software bundled with Photoshop Elements for $149.99.
Overall, it's a great all-around tool that's available for both Mac and Windows 10 PCs.
What I Like/Dislike About Adobe Premiere Elements:
Like:
Very intuitive and with all the necessary tools so you can create amazing videos, Adobe Premiere Elements is the perfect software for anyone who wants to make a hobby of editing videos.
Advanced features allow you to take things to the next level
Dislike:
Good for basic video editing but lacks some of the features of more expensive video editing software.
Limited to a number of tracks when compared to other software.
Product Updates:
Auto-reframing your subject allows you to keep your video subject in focus, no matter the size or aspect ratio of your video.
Pick the perfect aspect ratio for your project by choosing from a variety of popular options, including social media-friendly sizes.
Get started with Adobe Premiere Elements.
Best Video Editing Software for Mac
Adam's Take
Cinematic mode and video editing go hand in hand. The popularity of video content has skyrocketed, and more people are looking to create better videos. Final Cut Pro X takes the cake for video editing software specializing in cinematic productions. If you're looking for a more traditional video editing software, this software is also a great option.
Apple's popular Final Cut Pro X is a prosumer video editing package that perfectly blends professional video features with a smooth learning curve for consumers.
With over 2 million users and a steeply reduced price from the original $999 to $99 on Amazon, it's more popular than ever. If you're a Mac user, then this is one of today's best deals to consider.
The interface uses a three-pane view with a trackless, Magnetic Timeline, which is excellent for using dual monitors. Clips can be imported and organized as Roles in the library, which can be assets like video, music, titles, voiceovers, effects, and more.
Once video production completes, you can use their 149 video effects, 109 audio effects, 183 title animation templates, and 100 transitions. These transitions are effortless to implement with keyboard shortcuts, which can save with custom keyboard combos.
Key Features:
Final Cut Pro X has native support for MacBook Pro Touch Bar Editing, allowing you to use touch controls for things like timeline scrubbing and text customization. Text editing is fun, too, with its 3D capabilities. There are different 3D templates, textures like plastic and concrete, and lighting effects that you can add from any angle on the screen.
Some other great features include multicam editing, unlimited video tracks, chroma-keying, format support with lots of exporting options like 4k and 360 videos, and super-fast performance, even on older MacBooks.
For Mac users who care about power, advanced features, ease of use, and speed, Final Cut Pro X is the #1 choice.
User Experience:
If you're doing any type of video editing on a MacOS, you're going to want to use Final Cut Pro X.
The software is made by Apple, so you know it runs well on this type of system.
There are a ton of features, some of which are more advanced than others, but the experience is fantastic regardless.
Pricing:
You can try this software to see if it is the right choice for you.
After a 90-day free trial, it costs $299.99 to buy.
What I Like/Dislike About Final Cut Pro X:
Like:
The program renders everything in the background so you can keep working
Dislike:
With the sheer number of options available, it's easy to get lost and overwhelmed. This can definitely be a pro as well as a con, depending on your experience.
Only works on Mac.
Product Updates:
Using machine learning, the program modifies the volume of background noise to improve speech clarity
Using highlighted clip ranges or the Timeline Index, you may quickly discover media that appears in a project more than once.
Easiest Simple Video Editor for Windows
Adam's Take
Looking for straightforward video editing software? EaseUS Video Editor is what you need. It's an excellent tool for beginners and professionals to create high-quality videos in minutes. With this software, you can edit and export inspirational videos, promotional videos, and more – all with a simple learning curve.
EaseUS is a company that's been around since 2004 and is known for its popular data recovery software that's been downloaded over 72 million times. They recently created a new video editor that is becoming very popular due to its simplicity, ease of use, and great features.
You can try out their video editor with a free trial and buy the pro version for just $17.97.
Their video editor offers a lot of basic timeline editing features like cut, trim, split, merge, and rotate. You can also apply video effects, use 50 built-in transition effects, and change the speed of your clips for slo-mo or accelerated speed.
Their tool makes audio editing easy too. You can narrate over video clips with one click and add any music file to your timeline.
Key Features:
The EaseUS Video Editor also offers a lot of export options and videos can be played back on iPhones, iPads, Samsung Galaxy, HTC, and other devices. You can also burn your video files to DVD or upload them directly to YouTube. You can also use EaseUS tools to convert YouTube videos to MP3.
User Experience:
The number of effects and transitions that you can add to your video is quite impressive.
Considering the ease of use in which you can use these features, the software is excellent overall.
The biggest strength of this software, however, is its intuitive interface and layout.
Drag and drop your way to a stunning video, and then save it in any popular format.
Pricing:
With two subscription-based pricing plans (Monthly at $17.97 or Yearly at $49.95) and a lifetime plan at $79.95, EaseUS is a great choice for video editing.
With over 530 million customers, free tech support, and a 30-day money-back guarantee, EaseUS Video Editor is a great option. It's a simple video editor at a low price for W§indows that anyone can use.
What I Like/Dislike About EaseUS Video Editor:
Like:
Easy to use user interface that makes it great for beginners
The wide range of transitions and effects available are really good
Overlays allow you to add branding or watermarks to your videos
The 30 days money-back guarantee is a great feature
Dislike:
More on a pricey side compared to other video editors
Only available for Windows, not MacOS or Linux
Product Updates:
Free tech support so you're never left in the dark when trying to make a great video
6. Movavi Video Editor.
Best Easy Video Editor For Mac OS X (Free – $39.95)
Movavi is a Mac video editor that lets you record, convert, enhance, and edit your videos. The video editor helps you with all types of videos, including wedding videos, travel clips, birthday films, home movies, etc.
You can add captions, filters, animated transition effects in your videos to make them more engaging. Movavi also provides pre-made intros that you can add to your videos. You can further customize the intros according to your requirements.
There's even an option to choose and buy hundreds of transitions, stickers, video intros, backgrounds, titles, etc., from Movavi Effects Store.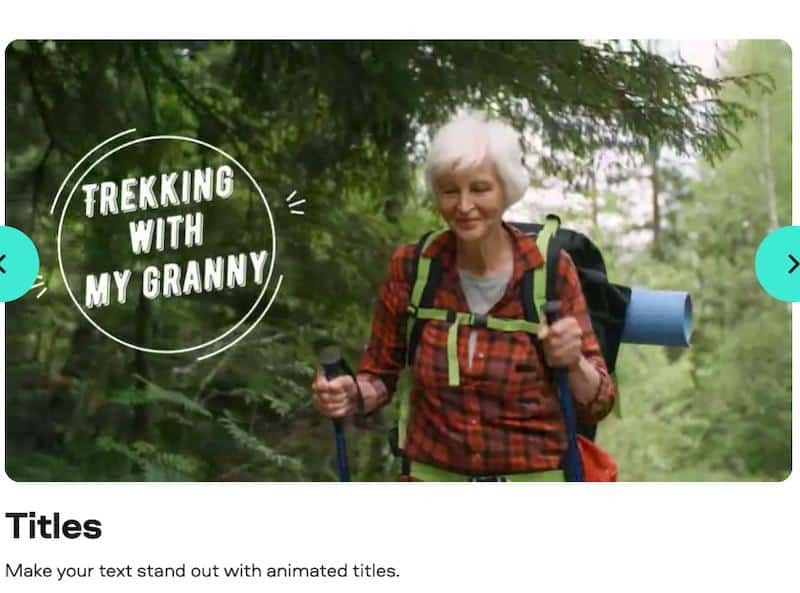 The video editor also helps you crop and rotate your videos just the way you want. What's more, you can use the 'Chroma Key' to easily remove or change the background of your video clips.
Now, you can also set aspects ratios of your choice. The tool provides you with the appropriate aspect ratio for social media platforms like YouTube, Instagram, Facebook, etc.
Movavi also lets you perform several functions with a single click, including:
Giving your videos a retro look (like a flashback from the 80s)
Inserting transitions
Show stories with the picture-in-picture option
Get rid of shaking in your videos
Add transitions between all segments
Cutting, trimming, and joining
Additionally, you can use Movavi's screen recording and media file conversion tool with its full Video Suite plan.
Here's a list of some of its most prominent pros:
It supports all major formats like DivX Video (.divx), GPP (.3gp), 3GPP2 (.3g2), etc.
It provides video editing features like stylization, pan & zoom, video stabilization, and more.
Movavi also helps you with Audio synchronization.
You can add up to 99 tracks in a single timeline.
Faster processing of 1080p and 4k videos with the Plus edition.
Use special effects like Chroma Key and Slo-Mo.
Stock video and audio collection.
Adjust the intensity of filters.
Preview clips frame by frame.
Compatible with both Windows and Mac.
24/7 customer support.
It also provides how-to guides, a knowledge base, and a learning portal.
Pricing:
Movavi Video Editor has two editions, namely Video Editor and Video Editor Plus.
Video Editor: $39.95
Video Editor Plus: $59.95
Video Suite: $79.95
You also get a free version for both editions to try out the tool before purchasing it for more advanced features. Plus, all the plans come with a 30-day money-back guarantee.
The Video Editor Plus edition comes with additional features like keyframe animation of titles, overlay video, stickers, etc. You can purchase the Video Suite to use other sub-products like Movavi Video Converter and Video Recorder.
7. MiniTool MovieMaker.
Best Free Video Editing Software for Windows
MiniTool MovieMaker is a powerful, free video editor that lets you easily create and edit high-quality videos in minutes. Its simple drag-and-drop interface makes it very easy to import files, and add your titles, transitions and effects.
Another cool feature is their Hollywood-style movie trailer tool. To use it, you choose a pre-made template, import your videos, and then save or share the video with your family and friends.
Here is a list of more key features:
Auto-save project feature.
Video trimmer that makes trimming and splitting video files easy.
Creative filters and professional LUTs create nice visual aesthetics.
Animated titles and subtitles.
A lot of transition effects to choose from.
Pan and zoom effects to add motion to your videos.
A speed controller so you can speed up, slow down, and reverse clips.
The team is always rolling out new features and updates too, including downloading YouTube videos, adding text templates, fixing bugs, and improving stability.
Overall, MiniTool MovieMaker is one of the best free video editing software that works with Windows 7, Windows 8.1, and Windows 10 computers.
8. Pinnacle Studio.
Best for creative visual effects ($59.95)
Pinnacle Studio is a video editing software that helps you with advanced video editing and screen recording. It provides hundreds of creative effects, overlays, video masking, title editor, color grading, 360-degree video editing, and more.
One good point is that the software supports old video formats like VHS, Hi8, V8, and other cameras. And you can convert all these old formats into digital files.
The MultiCam capture feature helps you capture videos and audio from multiple cameras. You can also connect various devices and capture synced video and audio. This feature enables you to make different videos like unboxing videos, tutorial videos, and more.
It also lets you create custom motion title graphics and control all aspects of your video, including motion, effects, and overlays. Plus, you get all the necessary editing tools to trim, crop, rotate, and split your videos.
Some advanced features include color grading, color correction, and LUTs & filters. The color grading function helps you adjust colors, highlights, mid-tones, and shadows – while color correction helps adjust white balance and correct underexposed scenes.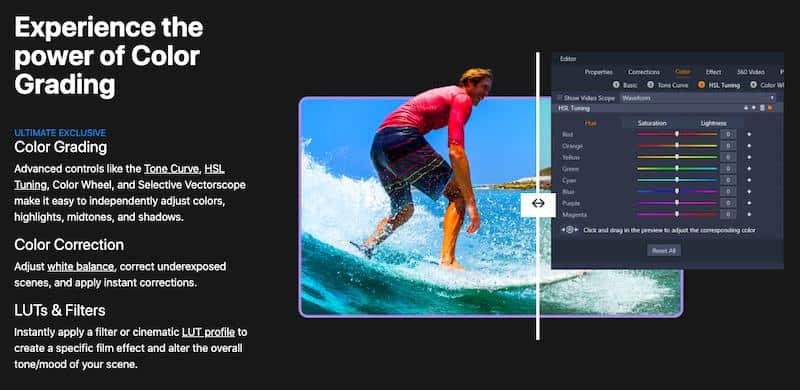 Color grading provides other advanced controls like Tone Curve, Color Wheel, Selective Vectorscope, HSL Tuning, and more.
There's a Green screen or Chroma key function that lets you remove or change the background of any video with any image or video you want.
You also get options to add audio, record your narration & voiceovers, or mute or detach audio – in a few clicks.
Additionally, the software comes with add-ons like capture videos, author DVDs, and many other 3rd party plugins.
Here's a quick overview of some of its key features:
100+ MyDVD menu templates.
Color grading.
4K video editing supported.
Edit Multi-camera clips for up to 6 cameras.
Motion tracking with Mosaic blur.
Editing across unlimited tracks.
Clone objects and combines clips.
Remove distractions.
Use time remapping to create fast or slow-motion effects.
Brighten faces, blur backgrounds, censor license plates, and edit other targeted areas.
Pricing:
Pinnacle Studio has three pricing options:
Pinnacle Studio 24: $59.95
Pinnacle Studio 24 Plus: $99.95
Pinnacle Studio 24 Ultimate: $109.95
All the plans offer features like title editor, keyframe controls, color correction tools, and more.
9. Wondershare Filmora.
Simple Online Video Editor for Windows and Mac ($49.99 per year)
Wondershare Filmora is a video editing software for Windows and Mac that comes with drag and drop effects, templates, audio, filters, soundtracks, and more.
You also get plenty of features like split-screen, motion tracking, green screen, and more. The Keyframing feature helps you add custom animations between clips, while Motion tracking helps you with intuitive object tracking. Then there's a color matching feature that allows you to take the color settings of one clip and apply it to other clips in a video.
The video editor even lets you assign hotkeys shortcut commands for different tools to save your time.
Plus, you can add different transitions, filters, motion elements, clips, audio, titles, etc. with the drag and drop features.
You also get the Green screen feature that lets you change or remove the background of your video.
Additionally, you can use 'Audio Ducking' to reduce background music volume and fade one audio track into another.
Other key features include:
Keyboard shortcut
Color grading
Upload your videos directly to YouTube from Filmora.
Hardware acceleration for Mac that provides a faster editing experience.
Blending mode to layer media for special effects.
Pricing:
Filmora comes with the following plans:
Annual Plan: $49.99 per month
Perpetual Plan: $79.99 per year
Bundle Subscription Plan: $109.99 per year
All the plans come with a 30-day money-back guarantee.
10. Clipchamp.
Great Online Tool for Everyday Editors (Free – $39 per month)
Clipchamp is a free video editor, webcam recorder, converter, and compressor. It also provides features like trimming, speed control, audio track, adjusts color, rotating, cropping, add text, and more.
Plus, the tool lets you create Youtube videos, Instagram video ads, video memes, Facebook cover videos, slideshows, etc. You can use Clipchamp's Facebook ad maker tool to make advertisements for your company. It also comes with ad templates and audio templates to help you create engaging advertisements.
The video editor also offers customizable templates that can help you create social video ads, corporate slideshows, cinematic presentations, etc. You can also choose from thousands of stock videos and photos to use in your video. Their image and video library contain over 800000 assets.
Clipchamp also provides a bunch of additional tools besides the conventional video editor. For instance, it offers video compressor and converter tools that you can access directly from a web browser. Leverage them to reduce video size and convert videos into different video formats.
You can also perform actions like trim & cut, rotate, split & combine, crop, flip & mirror, and more. Additionally, it lets you generate video memes and perform webcam and screen recording.
The drag-and-drop user interface to edit videos is also a bonus. It makes it easy to add audio, photos, and videos to the timeline in your web browsers.

Besides, you can add filters and transitions using the filter and transaction library, balance colors, add backgrounds, and adjust the opacity. Not only this, but you can also change aspect ratios of your videos with its free online video resizer software.
Other prominent features include:
Capture Screen – Now, you can capture your computer screen along with your computer's audio. You can even edit those clips later.
Green screen – Change or remove your videos' background with its free online green screen video editor.
Picture in Picture – Use this feature to deliver lectures, reactions, gameplays, etc., videos with its free online image in a picture video editor.
AI Voice-Over – The AI voice-over feature turns text to speech and lets you choose any narrator of your choice. This feature can help you make documentaries, sounding ads, etc.
Audio Visualizer – Clipchamp's audio visualizer helps you transform audio recordings into dynamic animations.
Pricing:
Clipchamp provides five pricing plans:
Basic: Free Version (For personal use)
Creator: $9 per month (For casual use)
Business: $19 per month (Suitable for work and business use)
Business platinum: $39 per month (Full business package)
The Basic plan provides 480p exports (SD), while the Creator plan allows 720p exports (HD). On the other hand, all the other plans offer 1080p exports (Full HD).
All the plans offer all the essential editing tools, webcam & screen recording, and unlimited video production.
11. Apple iMovie.
Best Free Video Editing Software for Mac and iOS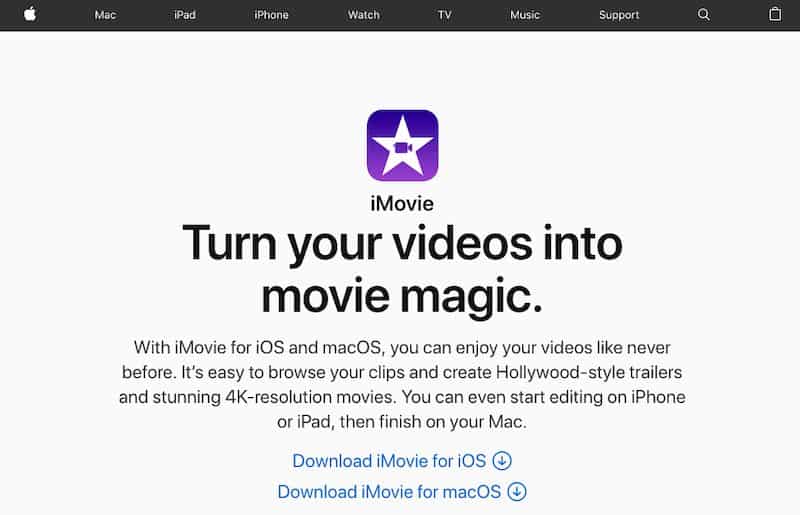 If you are a macOS or iOS user, Apple iMovie is the best free video editing software to use and one of the most popular video editing apps. iMovie a user-friendly tool for video editing with support for 4k resolutions with a wide range of features.
iMovie has a crisp performance on modern Macs and works well with both the Macbook Air and Macbook Pro.
Recent updates include touch bar support and 4k video functionality. You can also process video clips at a playback speed as high as 60 frames per second. Video effects include green screen, video filters, and multicam editing.
Apple compatibility is also a strong selling point. You can easily import and export video clips, audio, and photos from iCloud. Plus, you can create slideshows and view your projects right on your Apple TV.
Additionally, there are a ton of helpful iMovie tutorials online to help you use their free software.
Exporting options are also straightforward, with exporting available in most common file formats.
Overall, if you need a simple and free video editor for macOS, give iMovie a try.
12. HitFilm Express.
A Strong Choice with an Array of Add-Ons
HitFilm Express is a free version of the HitFilm Pro – both created by FX Home company. Their Express version stands out for its 180+ visual effects, special effects compositing, and MP4 H.264 exporting support.
With HitFilm Express, you can select your high-quality settings. These include pause and custom playback features. These features speed up playback, saving you the torment of viewing delays familiar with high-resolution formats.
Another powerful feature is its customizable layout panel. With HitFilm Express, you can organize objects in a scene with seamless alignment tools. You can also access 360-degree and colorist workspaces. With these features, you can concentrate on the vital functions on the panel and remove the unimportant ones.
Video rendering and exporting is where Hitfilm Express shines. You can quickly export a movie in the background while continuing to work in the editor.
13. VideoPad.
Great Video Editing Software for YouTube
If you are a YouTuber, VideoPad is an easy-to-learn, intuitive editor.
There are two paid versions – the Home Edition and Master Edition. The Home Edition restricts you to two audio tracks and no external plugins. On the other hand, with the Master Edition, there are restrictions on the number of audio tracks or external plugins.
VideoPad has been updated recently to support 360-degree video capabilities. You can also add animated titles, background clips, simple text, and image overlaps courtesy of the new "Add Objects" command situated on the editor's Home tab.
One of the most attractive features of VideoPad is its intuitive UI, making it super easy for beginners. VideoPad is compatible with macOS and Windows PCs.
With these cross-platform elements, you can easily upload your finished video straight from the editor's main menu to your selected social media platform.
For its lack of flashiness, VideoPad compensates with ease of use and the essential features needed to start uploading quality videos online – and you can render anywhere from 480p to 4k resolution.
14. WeVideo.
Best Video Editing Software for Education
WeVideo is a cloud-based platform known for its multiple video editing software programs for businesses and educators.
For educators, you can seamlessly integrate WeVideo with your current LMS (like Google for Education, Canvas…) making it easy for you and your students to export projects. There are software packages dedicated to education ranging from individual teachers to school districts.
For entrepreneurs and marketers, there are multiple software packages to choose from. With Professional and Business, you gain access to unlimited royalty-free and licensed stock visual and audio files. The feature set includes customizing projects with your branded logos and designs and being able to directly upload a video project straight to your company's social media platform.
You can easily edit videos across all different devices such as Windows, Mac, Chromebook, and both Android and iOS mobile devices. Green screen can be used for getting creative with background videos.
Pricing:
With pricing starting from $4.99 monthly and going up to just $36.99 per month for a video editing tool that is suitable for business, WeVideo is a favorite among many with various needed.
What is Video Editing Software?
Video editing software helps you modify, edit, and manipulate video files in a timeline format to create movies and short films.
Video editors help you correct the frames of video, add texts, images, colors, filters, and more. You can also add audio clips, speech, and background music to your video.
Other helpful features include:
Helping you cut sections of your video.
Removing parts of your video.
Arrange different clips and frames in a video in various ways to achieve better flow.
Adding special effects and filters to enhance the quality of the video.
Adding music and audio to video clips.
What Should You Look For in Video Editing Software?
Here are a few essential points that you should consider before finalizing a video editing software.
Cross-Platform Compatibility – Go for a video editing software that supports multiple platforms, including macOS, Windows, and Linux. This will give you the option to use your video editing software on any machine.
File Formats and Support – It should be able to read and write significant video, image, and audio formats, including MP4, MP3, jpg, WAV, and more. This will provide you with much-needed flexibility to edit anything you want.
Easy Clip Editing – It should be able to resize, scale, snap, or trim your clip with few simple clicks. The software should also let you edit clips from different locations, X or Y axis, and more. These functions will help you edit the video with different perspectives.
Real-Time Previews – You should be able to see the edited clip in real-time to get a better idea of your work.
Smooth Video Transitions – Video transitions can help you join two clips seamlessly and in an intuitive manner. Look for a video editing tool that offers diverse transition effects for unique video editing.
Custom Titles and Graphics – Your video editing software should offer multiple title options, fonts, colors, and transitions for different video requirements.
Timeline Editors – You need to have a feature-filled timeline to execute an excellent video editing project. Look out for features like drag and drop, preset animations, zoom in and out, resize clips, alignment, snapping, slicing, etc.
Speed Adjustments – You should be able to control the speed of your video. Thus, select a video editing platform that allows you to increase or decrease your video's playback.
Audio Editing – Audio editing features like the display of waveforms on the timeline and rendering of waveforms as a part of the video are also helpful. Plus, the software should also allow you to split the audio from a video clip and adjust the audio channels separately.
Make sure to consider all these features before selecting the right video editing software.
How Do You Use Video Editing Software?
Here, I am using Movavi to help you understand how fundamental features of a video editing software work.
Step #1 Create a Project.
Click on "Create New Project" or press Ctrl+N to start a new project.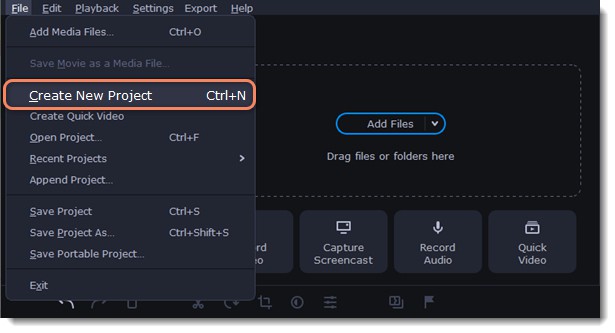 Step #2 Add Files.
Click on the "Add Files" option or simply drag and drop files to the timeline.
Step #3 Editing Icons.
Next, you get several essential editing options like:
Delete
Cut
Rotate
Crop
Clip Properties
Color Adjustments
Step #4 Tabs Usage.
Change tabs on the left-hand side to add transitions, effects, titles, stickers, filters, tools, and more.
Step #5 Add Transitions and Filters.
Simply drag filters and transitions to the timeline; they'll get added automatically.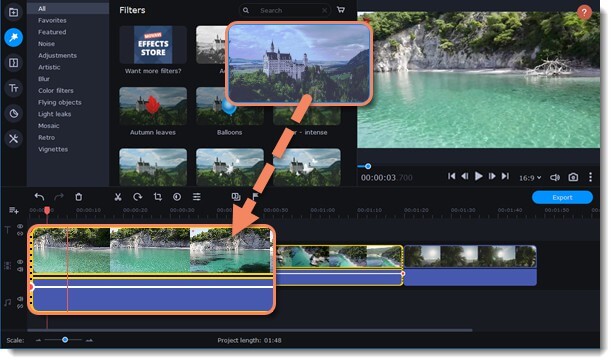 Step #6 Add Audio.
Follow these simple steps to add audio:
Click on the "Import" tab >> Select the file import category >> Click on the "Add" option.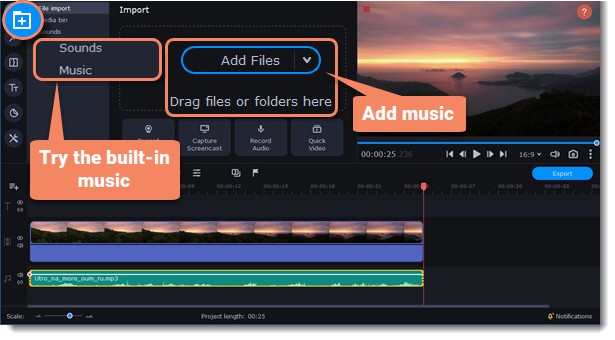 You can also simply drag and drop the audio file.
It also offers in-built music and soundtracks that you can use in your videos. Click on the Music or Sound category to select an audio file from Movavi's royalty-free music bank.
Step #7 Add Text.
To add text or titles, simply click on the "Titles" option on the left-hand side to browse the title collection. View the preview by clicking on the title style and click on the heart icon to add it to your video. You can also drag the title style to the timeline.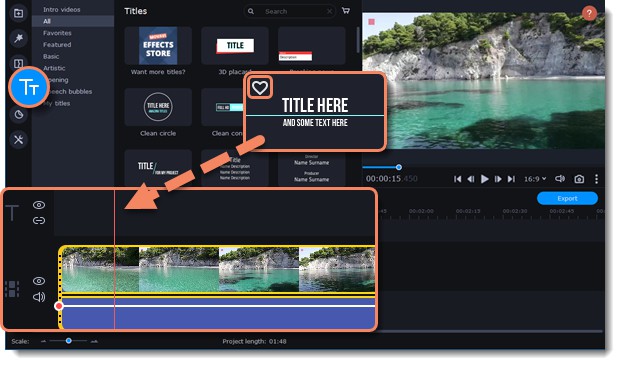 (Source: Movavi)
You can also edit the titles the way you want. For that, double click on the title clip to browse the settings panel. You can edit the text, change its duration, replace the font, add colors, and more.
Step #8 Save Video.
Follow these steps to save your edited video:
Click on the "Export" button >> Select the file format >> Name the file >> Finally, click on the "Start" button to start the processing of the video.
Follow these simple steps to start editing videos on your video editing software.
Other notable video editors not yet on this list include:
Disclaimer: This article contains affiliate links that I receive a small commission for at no cost to you. However, these are the best tools I fully recommend when it comes to video editing. You can read my full affiliate disclosure in my privacy policy.
Best Video Editing Software – That's a Wrap.
There you have it, the best software to use to create video magic. It doesn't matter if you're a seasoned professional, beginner, or just a tech enthusiast, I hope this guide was helpful.
To recap, if you're looking for the best overall video editor, I recommend Adobe Premiere Pro CC.
For Mac users, go with Final Cut Pro X.
If you're a beginner and want a cheap option that still has a lot of features, you should choose Adobe Premiere Elements.
Finally, if you want to use the best free video editing software for Mac, you can download iMovie.
Which video editor do you use? Are there others I should add to this list? Let me know in the comments.
Further Reading on AdamEnfroy.com: To monetize your video content, check out my guides to make money on YouTube and my reviews of the best online course platforms to sell video courses. And to take your editing a step further, you can check out my reviews of the best audio editing software, animation software, and screen recording software.
Disclosure: I may receive affiliate compensation for some of the links below at no cost to you if you decide to purchase a paid plan. You can read our affiliate disclosure in our privacy policy. This site is not intending to provide financial advice. This is for entertainment only.
---
Last Updated on April 23, 2022 by Adam Enfroy