25 Best Digital Marketing Agencies of 2022 (Ranked)
Let's face it: in the world of social media and search engine supremacy, no marketing strategy is complete without digital marketing tactics.
If you're looking to scale up fast and grow your online, local, or blogging business to its full potential sometimes you need to partner yourself with the best digital marketing agency.
Now, as anyone who has ever tried knows, finding the best digital marketing agency isn't exactly a walk in the park. Everyone claims they're the best, so who do you trust? You can take the Google search route, but that is bound to turn up an average of 100 million results.
To save you the trouble, I've gone through the best of the lot and curated a list of the top 25 digital marketing agencies you can work with today. I've included a bit about each business, its essential services, pricing structure, and who it's best for.
What Are the Best Digital Marketing Agencies?
Check out my list of the top 25 best digital marketing agencies:
1. Mayple
Best For Small And Medium Businesses
Mayple is the top digital marketing agency that started with the aim of removing the inequity that exists in the digital marketing ecosystem. In today's world, big businesses with large marketing budgets can hire the top talent, while SMBs are left behind.
The experts at Mayple aim to change just that. It consists of fully vetted experts who are selected based on their real-world marketing experience. The service helps you match your marketing needs with the professionals you hire.
You can easily search for your particular niche and get a list of marketers that fit the bill. From multi-campaign strategy to a 360-degree view of growth opportunities, Mayple gives you everything you need to succeed.
Key Services:
Search engine marketing using paid ads (Google and Bing)
Paid social media marketing campaigns(Facebook/LinkedIn/Pinterest/Twitter)
Email marketing and web analytics
Conversion rate optimization
Search engine optimization (SEO) strategy
Content marketing and lead generation
What They Do Best
Mayple is ideal for e-commerce brands looking to scale up their operations fast. When you work with Mayple, you get the advantage of working with high-performers who are experts in their niche. At the same time, the service provides complete accountability and monitoring.
Price Point:
For paid advertising, plans start at $1800 per month
2. Ignite Visibility
Best For Growing Businesses That Want Rapid Scalability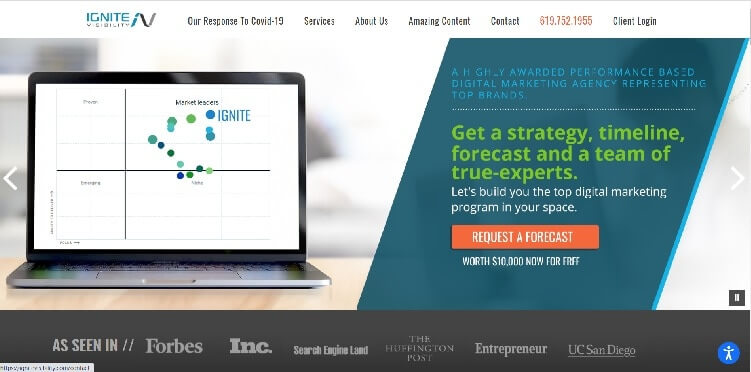 Ignite Visibility started its journey in 2013 and has emerged as one of the best digital marketing agencies in the San Diego area. The company aims to provide the most comprehensive digital marketing solutions across industries.
With a core focus on growing businesses online, Ignite Visibility specializes in SEO, PPC, and social media, just to name a few.
Key Services:
SEO
Social media and digital PR
Inbound marketing
Conversion rate optimization
Paid search and social advertising on the major advertising platforms
Offline conversion tracking
Online reputation management
What They Do Best
Ignite Visibility focuses on growing online businesses and has an unwavering focus on strategy, goals, and customer satisfaction. If you're a business that aims to be the leader in its industry vertical, then Ignite is the one for you.
Price Point:
3. Thrive Internet Marketing Agency
Best Full-Service Digital Marketing Agency
Thrive Internet Marketing Agency is a Dallas-based company and operates as a full-service digital marketing agency. It started operations way back in 2005 and has delivered consistent results with a vast number of clients across niches.
Thrive has a dedicated team that works with all aspects of online marketing, such as technical, creative, and strategic. They work with large and small businesses based in the US and are committed to offering results-oriented expertise in all their operations.
Key Services:
Complete SEO services (Local/Franchise/Technical)
Website design and development
Link building
PPC management
Social media marketing
Content creation and CRO
Email marketing and web hosting
What They Do Best
Thrive has experts in all areas of digital marketing, such as search, social, and e-commerce development. The teams here work with their clients not as a third-party agency but rather as growth partners.
Price Point:
Thrive's services start at $100 to $149 per hour
4. Rise Interactive
Best For Garnering Cross-Channel Business Insights
Rise Interactive, based out of Chicago, Illinois, is another top digital marketing agency that helps brands gain better traction with cross-channel marketing services. They refer to themselves as a "performance marketing agency" that helps businesses move faster.
Rise works as more than your business partner; in fact, it helps businesses get past marketing challenges and create an award-winning digital marketing strategy. With Rise, you get to streamline your business and achieve the desired outcomes.
Key Services:
SEO and SEM services
Affiliate, social media, and email marketing
Advanced analytics
Web design services and mobile app development
Content marketing
Platform enablement
Marketing measurement
What They Do Best
Rise's specialty lies in helping your business reach the buyer at every stage of the funnel. By providing stellar customer experiences, it helps to grow your brand to its full potential. The company excels at delivering cross-channel business insights using advanced analytics.
Price Point:
Hourly rates vary between $50 and $99.
5. Disruptive Advertising
Best For Google And Facebook Ads
As Disruptive Advertising proclaims on its homepage, over 75% of marketing budgets allocated for Google and social media search tend to waste. The digital marketing experts at Disruptive can help you overcome this and get the most out of every dollar.
Disruptive has expertise in Google and Facebook ads, along with the ability to streamline your website to focus on conversion. The experts here will also perform a detailed analytics audit on your site and glean the information needed to grow your business.
Key Services:
Search engine marketing (Google and Bing)
Paid social media advertising
OTT advertising
Audio ads on platforms such as Pandora and Spotify
CRO
Email marketing
Business intelligence and analytics
What They Do Best
Disruptive Advertising works best to do what their name suggests: upend your business's status quo and implement marketing tactics that deliver results. They take the trouble to understand the purpose of your business and help you create suitable marketing strategies.
Price Point:
Hourly rates starting from $150-$199 per hour
Per-project rates starting from $1000
6. OuterBox
Best For Sales-Focused Marketing
Outerbox, based out of Copley, Ohio, offers services in all facets of digital marketing. This digital marketing agency is an entirely performance-minded business from web design and development to online growth and presence.
Outerbox helps businesses gather more leads with its services, increase sales, and get noticed by a more significant number of potential customers. The company has satisfied clients spread all over the US who vouch for its online presence expertise.
Key Services:
Web design, development, and maintenance
B2B and B2C e-commerce services
Amazon, WordPress, and Shopify SEO
Google ads management
Content marketing
CRO
Social media management
What They Do Best
Outerbox's digital marketing strategy is geared towards online growth and enables businesses to make better sales. It also focuses on decreasing customer acquisition costs which is bound to impact your bottom line positively.
Price Point:
7. WebFX
Best For Enterprise SEO
WebFX is based out of Harrisburg, Pennsylvania, and holds the distinction of having generated over a million leads for their combined clientele. It has over 200 team members and has the best team and marketing services to help businesses thrive.
The company is home to marketers, developers, and designers who are experts at what they do. Working together, these teams provide you with fully customized solutions tailored to meet your needs.
Key Services:
SEO and PPC management
Ecommerce PPC services
Enterprise SEO services
Amazon optimization
Web analytics and optimization
Content marketing, UX design, and email marketing
What They Do Best
Although it offers services across the entire spectrum of digital marketing, its expertise and focus lie in the realm of SEO. The experts at WebFX provide you with dedicated account managers, detailed SEO audits, and even enterprise-level SEO.
Price Point:
Per hour pricing starts from $100 to $149
Per project, pricing starts from $1000
8. Titan Growth
Best For ROI-Driven Paid Media Management
One of the older and more experienced top digital marketing agencies on the list, Titan Growth specializes in all forms of marketing and advertising. It's based in San Diego, California, and employs a team of around 45 employees specializing in digital strategy.
The company is a Google All-Star partner and works with only the top professionals in the field. With expertise drawn from all areas such as computer technology, programming, and even government intelligence, it focuses solely on client growth.
Key Services:
SEO
Paid media management
Social media management
Email prospecting
Amazon marketing
Video production
PPC
What They Do Best
Titan Growth specializes in ROI-driven SEO and paid media management. For this purpose, they've created TitanBOT, a Google crawler emulator, which helps them analyze your website from the crawler's perspective. Such an approach leads to more articulated results.
Price Point:
Project prices start from about $1000
9. Hop Online
Best For B2B Lead Generation
Hop Online, founded by former Google employee Paris Childress in 2009, works to deliver fast and scalable growth for startups and established businesses. The agency has expertise in online lead generation and conversion-focused digital marketing.
Hop online has a proven procedure in place for implementing digital growth. It begins with an analysis of your website data and content. The experts here create a multi-channel strategy for digital development and execute projects with an Agile mindset based on the findings.
Key Services:
SEO
Content marketing
Social media marketing
PPC marketing
CRO
Google and Facebook Ads management
Marketing automation
Digital strategy and optimization
What They Do Best
Hop Online takes pride in B2B lead generation among their specialties. It has been successful in achieving seven times growth in leads generated for multiple international businesses.
Price Point:
Hourly rates vary between $50 to $99
Per project, rates start from around $1000
10. Silverback Strategies
Best For Paid Search And SEO
Silverback Strategies is located in the Old Town area of Alexandria, Virginia, and is considered one of the country's high-performing digital marketing agencies. They've featured on the Inc. 5000 list as one of the fastest-growing private US companies.
Silverback has tie-ups with the internet world's biggest names, such as Google, Facebook, and YouTube. It employs top-notch digital marketing professionals who help create growth-focused marketing strategies that actually work.
Key Services:
SEO
Content marketing
Paid media and search
Social media marketing
Web design and analytics
Video marketing
Email marketing, growth analysis, and research
What They Do Best
Silverback provides you with paid search and SEO as the primary crux of all services. However, it even offers comprehensive web development and content marketing services for enhancing your online reach.
Price Point:
Hourly rates start between $150-$199
Per project, rates start from around $1000
11. Marketsmiths Content Strategists
Best For Content And Copywriting
Marketsmiths Content Strategists is a digital marketing company that focuses on quality copywriting. Their mission is to humanize copy, cut the filler out of content, and string together words that spur your buyers to action.
With Marketsmiths, you get access to strategic content and copy that resonates with your audience. It caters to the content needs of enterprises, brands, startups, and agencies. Located in Brooklyn, New York, Marketsmiths is the place to go for web copy that speaks to you.
Key Services:
B2B copy and content writing
Case study, ebook, and white paper writing
Website content strategy
Email and SEO-focused post writing
Video script writing
Thought leadership ghostwriting
Lead generation campaign writing
What They Do Best
Unlike most other services on my list, this company focuses on a single digital marketing niche: copy and content. However, it's expert at what it does and is careful to deliver content that helps boost your ROI to greater heights.
Price Point:
Marketsmiths' rates vary based on the project complexity and requirements
12. Avalaunch Media
Best For Multi-Channel Digital Strategies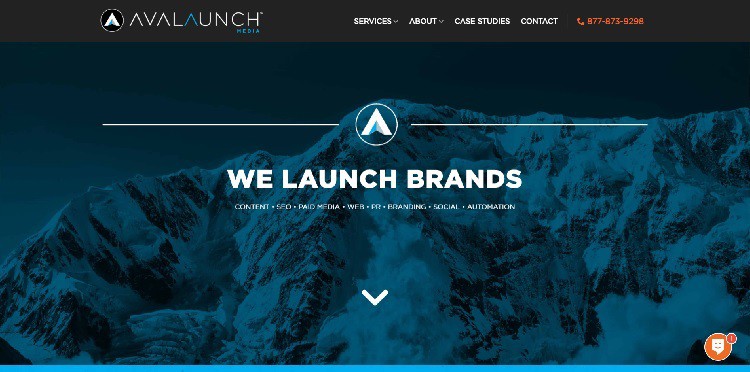 Located in Lehi, Utah, Avalaunch Media is a full-service digital marketing agency that takes care of every online marketing aspect. Be it video content, web design, or content marketing, Avalaunch can take care of it with ease.
The professionals here have deep expertise in multiple industries spanning the public as well as private sectors. The company has been helping businesses for more than 15 years and holds Premier Google Partner status.
Key Services:
Web design and development
Paid advertising and SEO
Content marketing
Social media marketing
Branding and PR
Marketing automation
Video marketing and motion graphics
What They Do Best
According to the experts at Avalaunch, a multi-channel strategy is essential for digital marketing success. That's why they don't limit themselves to any particular service and perform equally well at everything they tackle.
Price Point:
Hourly rates start at around $100 to $149
13. Perfect Search Media
Best For Customized Digital Marketing Strategies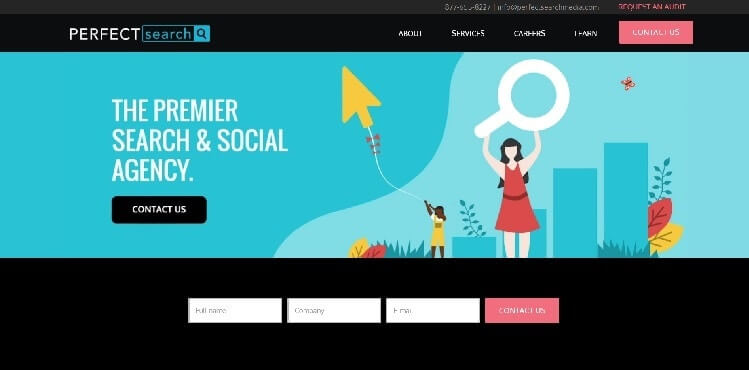 For businesses that want fast results, Perfect Search Media is the ideal choice. Entirely results-driven, the Perfect team strives every moment to help your business get better leads, improve traffic and enhance revenue.
They also pay special attention to creating customized marketing strategies that best fit your needs. Whether it's social media advertising, search advertising, or SEO, Perfect has your back in all these areas and more.
Key Services:
Paid search
SEO
Content marketing
Social media advertising
Design and display advertising
What They Do Best
Perfect Search Media experts are well versed in all digital marketing avenues. From influencer marketing to local SEO and Facebook ads to Google Ads (formerly AdWords), Perfect's experts can take care of it all.
Price Point:
Per hour starting prices are in the range of $150 to $199
14. Social Media Relations
Best For Disruptive Social Media Marketing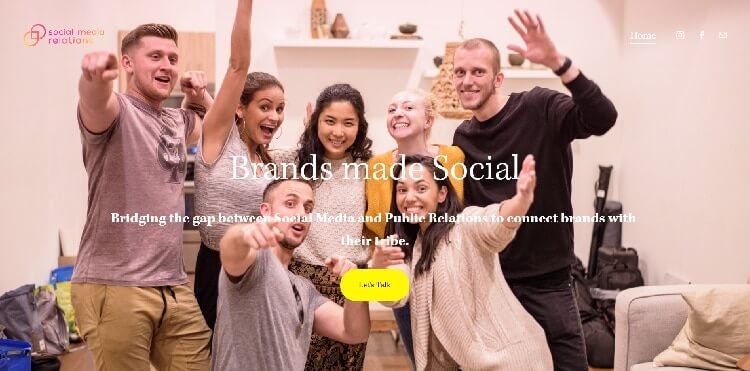 Social Media Relations, based out of Los Angeles, California, has been operating since 2015. It works with businesses across industries to deliver custom digital marketing solutions.
The team here uses a strategic approach and builds brand awareness within the target audience. They help businesses reach their goals within short time frames by using focused social media content, branding techniques, and graphic design.
Key Services:
Marketing project management
Influencer marketing
Branding and messaging
Content marketing
Media buying and PR
What They Do Best
As a creative marketing consultancy, Social Media Relations focuses on disruption. It strives every moment to upend existing marketing norms and create a new branding technique that resonates with the right audience.
Price Point:
Prices are available on request
15. Coalition Technologies
Best For SEO And Web Design/Development
Coalition Technologies is another Los Angeles-based digital marketing company counted among the US's leading SEO agencies. It's also an expert in web design and doubles as a design agency.
This company has clients across a broad industry spectrum, such as healthcare and public relations. Currently, the business enjoys a near 100% client retention and satisfaction rate.
Key Services:
SEO
Google, Facebook, and Instagram ads
Email marketing
Social media marketing
Reputation management
Web design and development
What They Do Best
As I've already mentioned in passing, SEO and website design and development are the pillars on which this business operates. With a team that includes marketers, digital experts, and developers, Coalition technologies is undoubtedly a digital agency to reckon with.
Price Point:
Hourly rates lie between $50 and $99
Per project, rates start from $1000
16. Whole Whale
Best For Non-Profits
Whole Whale is based out of Brooklyn, New York, and uses the power of technology and data to make marketing effective and efficient. The company takes a holistic marketing approach and provides customized solutions for every client.
Key Services:
Google Ads and analytics
Digital advertising and fundraising
Website optimization
Email marketing
Podcast marketing
SEO and content marketing
Customized data analysis
A/B testing and CRO
What They Do Best
The primary focus here at Whole Whale is to improve organizations' work quality and the impact that tackle socially essential issues. It also works to help nonprofits reach their goals and leave society a bit better than before.
Price Point:
17. 97th Floor
Best For Content Marketing And Copywriting
97th Floor is based out of Lehi, Utah, and is a full-service digital marketing agency that thrives on creativity. The team here focuses on tackling new, creative challenges that push the limits of what is possible in digital marketing.
The company combines target market research along with innovative ideas to create catchy content that converts. In this respect, it acts not as a third-party digital marketing agency but as a business partner that ensures you get the desired results.
Key Services:
SEO
Search and social ads
Graphic design
Copywriting and content marketing
Interactive video production
Email marketing
CRO and analytics
What They Do Best
While 97th Floor focuses on multiple aspects of digital marketing, its clients have expressed the greatest interest in its content marketing and copywriting services. The company also has a sizable focus on SEO and email marketing.
Price Point:
18. SocialSEO
Best For Search Engine Optimization And Social Media
SocialSEO has three offices spread all over Colorado and focuses on social media marketing, PPC, and SEO services. The business is one of the most experienced ones on this list, as it started operations way back in 1996.
Its team of almost 70 employees works to get their clients' businesses to greater heights. With their help, you stand to grow your customer base, improve online visibility, and better your sales, all at affordable costs.
Key Services:
Local/National/Ecommerce SEO
Enterprise SEO
Social media marketing
PPC marketing
Email marketing
Influencer marketing
Video production
What They Do Best
The company name itself is evidence that its primary focus is on SEO and social media services. The experts here work with all facets of social media marketing and SEO. It's also an UpCity Certified partner business.
Price Point:
Price available on quotation
19. Digital Third Coast
Best For Improving Customer Outreach
Located in Chicago, Digital Third Coast offers technical as well as creative expertise to clients across industries. It started operations in 2007 and has been boosting business for clients for well over a decade.
The company specializes in creating compelling ad copy and content that converts. It even provides marketing strategy preparation services customized to the needs of individual clients.
Key Services:
SEO
PPC and funnel marketing
Content marketing
Google and Facebook Ads
Digital PR
What They Do Best
Digital Third Coast focuses on using its expertise to enhance customer outreach. Every member of the company team uses a combination of digital expertise and analytical skills to deliver demonstrated success for clients.
Price Point:
Hourly rates lie between $150 and $199
20. Vireo Video
Best For Video Marketing
If you're looking to focus on video marketing, then Vireo Video is the one for you. It specializes in video marketing and advertising, along with influencer marketing and Facebook and YouTube ads.
The company works with cross-domain clients to create video marketing campaigns from scratch. It's also a Google Partner and employs certified professionals only. Brands that look to grow through video marketing can undoubtedly partner with Vireo Video for growth.
Key Services:
Video Strategy
Video SEO
Video advertising and optimization
YouTube Marketing
Influencer Marketing
What They Do Best
There's no need to elaborate here: Vireo Video is all about video marketing. Its prime focus lies in working with YouTube. And seeing that YouTube is currently the world's second-largest search engine after Google, it certainly makes sense.
Price Point:
Costs vary on a per-project basis
21. Brainlabs
Best For Analytics-Based Marketing
Brainlabs (formerly Distilled) is a digital marketing company with offices in Seattle, LA, Austin, and New York City. Brainlabs works to make the entire marketing process scientific.
Brainlabs works with a "Test and Learn" approach, where it partners with businesses to run digital marketing campaigns. The experts here glean actionable insights that can forward your marketing efforts through repeated testing and real-time data analysis.
Key Services:
Digital strategy
Data measurement and analytics
MarTech support
Social media marketing
Paid search and social ads
CRO
Data Science and training
What They Do Best
The primary focus of Brainlabs is on the number-crunching side of things. The experts here are committed to the idea that marketing should be data-driven. That's why they take an analytical approach to every marketing campaign they handle.
Price Point:
Costs vary on a per-project basis
22. WebMechanix
Best For Results-Driven Digital Marketing
WebMechanix likes to call itself a digital marketing agency with a difference. Unlike most agencies that focus on particular services or technologies, WebMechanix is performance-driven.
The experts here evaluate and solve problems to help move your marketing needle.
The company is a HubSpot certified agency partner and provides solutions across all HubSpot products. What sets this team apart is their focus on essential metrics, understanding client needs, and solving them fast.
Key Services:
Conversion optimization
Email marketing and automation
PPC management
SEO
Social media marketing
What They Do Best
The people at WebMechanix consider themselves to be marketing ninjas. They have a data-driven approach to solving problems across all areas of digital marketing. Be it SEO, PPC, or social media marketing, WebMechanix works with performance as the crux.
Price Point:
Hourly rates start from $100-$149
23. Seer Interactive
Best For Data-Driven Digital Marketing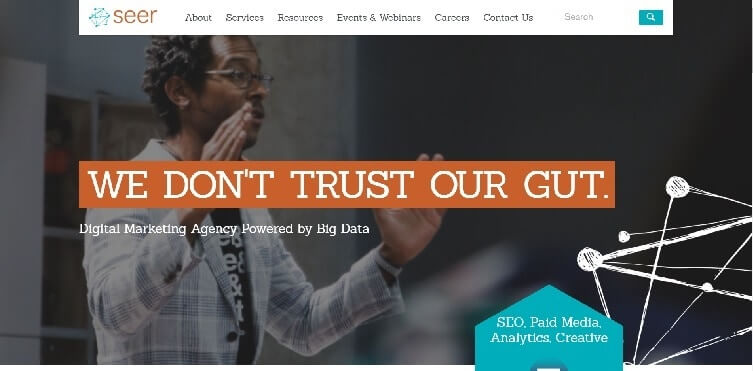 Seer Interactive is a big-data-driven digital marketing firm that has offices in both Philadelphia and San Diego. The experts here combine the latest digital marketing technology with cutting-edge data analytics to deliver results that boost your bottom line.
As its website page proudly proclaims, the company seeks to work with companies looking to upend the status quo. They use data in their decision-making to escape siloed information and deliver digital strategies that work.
Key Services:
SEO
PPC management
Social media marketing
CRO
Data analytics
Creative projects
What They Do Best
Whether they are working on PPC management or trying to boost your website up the SERPs, the professionals at Seer Interactive are experts in data-driven marketing. Leveraging the power of data in everything they do is their primary forte.
Price Point:
Prices vary according to project requirements and durations
24. KlientBoost
Best For Boosting The Bottom Line
KlientBoost is another performance-driven digital marketing agency that provides business owners and startups with proven and effective marketing strategies. At the same time, it offers services at highly affordable rates.
KlientBoost works to make businesses more money through conversion optimization and digital advertising that translates into sales. The professionals here ensure that they always work to grow their clients' businesses with every click.
Key Services:
Paid online advertising
SEO
CRO
Email marketing
Content marketing
Link building services
PPC management
What They Do Best
They help your business make more money, period. These guys don't focus on vanilla metrics and fluffy reports. They take what's actionable, put it to good use, and deliver results instead of promises.
Price Point:
Costs are affordable and vary on a per-project basis
25. 3Q Digital
Best For Growth Marketing
Located in San Francisco, 3Q Digital is one of the most prominent digital marketing agencies in the US, with an annual client-spend of over $1 billion. Whatever your needs and goals, 3Q digital will help you reach them with useful resource spends.
The professionals here take a fully connected digital marketing approach, where they use all feasible digital marketing channels to drive business growth. With expertise, tenacity, and technology, this is undoubtedly a digital marketing firm with a difference.
Key Services:
Paid media
Digital strategy
Decision making
SEO
Content marketing
SMB growth
What They Do Best
3Q Digital has proven its mettle when it comes to growth marketing. With clients like Atlassian, Pandora, and Facebook, their work is a testament to their expertise and professionalism.
Price Point:
Costs vary from project to project
Wrap Up.
Digital marketing is surely complementing (and in some cases taking over) various types of traditional advertising such as TV, radio, and even press release distribution.
With this in mind, no business worth its salt can ignore it. That's why it's essential to have a suitable digital marketing agency by your side.
I've tried to cover digital marketing agencies that can cater to every possible niche in the above list. Whatever your industry or digital marketing requirements, I'm sure you'll be able to find a choice from among the ones mentioned here.
Here are my top recommendations:
In case you're looking for a dedicated video marketing service, you can go with Vireo Video. And for SEO and SEM, Rise Interactive and Disruptive Advertising are also good choices. Whichever agency you choose, I'm sure you'll be in safe hands with any selection from this list.
Disclosure: I may receive affiliate compensation for some of the links below at no cost to you if you decide to purchase a paid plan. You can read our affiliate disclosure in our privacy policy. This site is not intending to provide financial advice. This is for entertainment only.